Goalie Instruction
Gold Medal Lacrosse & Goalkeeping
Between the Pipes
https://www.goldmedallax.com/home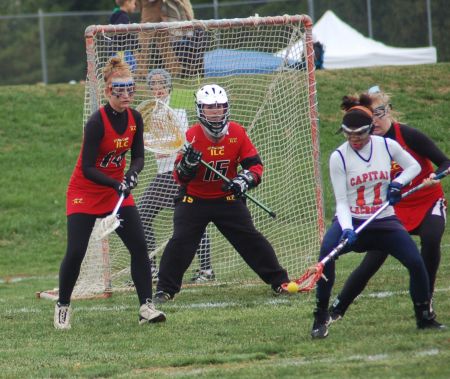 Lisa Dixon
Lisa was a former assistant coach at The University of North Carolina. She is currently living in Baltimore, and the Special Assistant to the President and Special Events Manager for the Baltimore Ravens. Before accepting the position at UNC, Dixon was an assistant coach at Penn State University. Dixon graduated from the College of William & Mary in 1997. As a lacrosse goalkeeper, Dixon helped William & Mary earn three NCAA Tournament appearances. In the Colonial Athletic Association conference, she received first team honors, and was recognized as a CAA Scholar Athlete in 1996 and 1997. In Dixon's senior year, she received First Team USWLA and IWLCA/BRINE All-American honors. In June 1997, she was awarded the C. Markland Kelly award; otherwise know as the "Goalie of the Year" award for Division I. Lisa is the Director of the Between the Pipes Goalie Camps.
Megan Huether Nicotra
Megan graduated in 2006 from Duke University where she was a 4-year starter in the goal. During her career she was a two-time All ACC selection in 2004 and 2005, an Intercollegiate Women's Lacrosse Coaches Association (IWLCA) first team All American and the National Goalkeeper of the Year in 2005. She is currently on the US team and was a member of the 2009 USA World Cup team which brought home the gold medal from Prague in June. Megan is currently a volunteer assistant coach at William and Mary while finishing up her master's degree in community counseling.